---
MarketFree® Fixed Index Annuity Case Study…
Case Study: In November of 2006, Jan and Steve, a couple concerned about the security of their investments and retirement savings, made a call to Ed, a family friend who was also their financial professional. After a brief conversation, they agreed to meet a few days later and discuss their portfolio. Upon meeting with the couple, Ed reluctantly agreed with them that they were not risk-takers, and yet he had a majority of their assets wrapped up in the stock market against their better judgment. Awkward as it was, Jan and Steve severed their business relationship with Ed causing some friction with the relatives. In an initial consultation with a new advisor which specialized in retirement planning they were carefully examining their investment options and looking at alternatives such as CDs, bonds, and REITs, Steve and Jan also discussed that they had read some negative reviews about annuities. The sources they were quoting said they were risky and associated with high fees and surrender charges. The articles they had gathered their information from were strongly biased. Additionally, these articles had placed all emphasis on the variable annuity# (VA) category. Unfortunately, it is not at all uncommon for financial writers to demonstrate bias by spinning an incomplete or simply inaccurate tale. Although the VA, when used under correct circumstances, can make perfect sense, they are distinctly different from MarketFree® fixed annuities, which tend to have lower fees, lower risk and be more conservative. Once they understood the differences between variable and fixed, they wanted to learn more about the benefits of using a fixed annuity for a portion of their retirement nest egg. This couple eventually chose to leave the stock market and allocated a reasonable portion of their retirement savings into MarketFree® fixed annuities with income riders. Their cash value has increased as planned, and they are now comfortable knowing their retirement income foundation is predictable and secure. Best of all, they did not lose any of their money during the Great Recession of 2007-2009. Unfortunately, not all misinformed individuals have such a happy ending.
---
Before Committing ANY Retirement Savings to Fixed Index Annuities…
"Make Decisions based on income, ratings, and key facts – Compare FIAs!"
Our helpful visitor survey finds:
Most Fixed Index Annuity owners with higher rated Hybrid annuities are pleased.
A portion of Fixed Index Annuity owners did not adequately understand their purchase.
Those who chose the lesser rated insurers were less confident with their decision.
Some purchasers believe their agent left-out key facts and did not inform them fully.
Few owners, after purchasing, felt Fixed Index annuities were not in their best interest.
Those who structured Hybrid annuities for maximum income with reduced or no annual fees were more likely to recommend this type of annuity to others.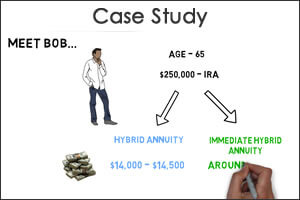 ---