Today's Top Ten 2017 Fixed Annuity Rates
Protect Your Retirement - Read Annuity Reviews & Avoid The WRONG Annuities!
Annuity Reviews are powered by AnnuityRateWatch.com's proprietary database. ALL reviews are continually subject to change and accuracy is never guaranteed since rates and features change frequently. Reviews are provided for conceptual and educational purposes only. REVIEWS ARE NOT AN ANNUITY SOLICITATION.
Fixed Annuity Rates 2017 & The Pros & Cons of Fixed Annuities
Fixed Annuity Rates 4,000+ Reviews. America's Trusted Annuity Source. B to AAA+ Hybrid, Index, Fixed & Immediate Annuities. Calculators & Quotes.
Secure, unexciting, super conservative in fact downright boring but…fixed annuity rates are considered safer than most investments! In 2007, it might have been hard to get anyone to admit that they actually put much money into a fixed annuity! However, today it is a different story as many individuals lost substantial amounts of money during the Great Recession. Since 2007, millions of folks holding safe fixed annuities suddenly found themselves encouraged by the fact that their fixed annuity rates were secure and growing as a fixed annuity was designed to do. Their fixed annuities protected them from the financial crisis and saved all or at least kept that portion of their retirement plan intact with locked in, with fixed annuity rates.
Video: Eric and Dick discuss who might benefit from fixed annuities with stable interest rates.
Google, Yahoo & Bing value your rating, So please, Click a Star below to Rate Us…
Five indicates very helpful information!
Fixed annuity rates offer competitive interest, typically 1-3% higher than bank products. They were never designed to give returns that are potentially available in the stock market, however; for the first ten years of this new century many actually outperformed the market and may do so again in a down or flat market.
The insurance provider and the contract available will determine the actual rate. Longer terms of five to ten years offer higher rates than shorter term annuities, though a one to five-year annuity can still potentially outperform bank CDs. In addition to earning higher interest rates, fixed annuities have even greater growth potential with tax-deferral accelerating their growth.
When comparing fixed annuities to CDs, many factors are clearly in favor of annuities. Moreover, CDs and securities don't offer much in the way of additional retirement benefits. CDs have early withdrawal penalties as do fixed annuities and they are both considered safe and secure.
However if you keep your money liquid and lose the opportunity to make an extra 2% per year for ten years, you will actually pay a lost opportunity penalty of 31% by default. That extra 2% compounded will increase your asset value by 31%. So if you plan properly, the fixed index annuity for retirement has the potential to make a significant difference over fixed investments and cash equivalents, and, at times, it actually does beat the stock market! So even a 10% early surrender penalty on an annuity can be small compared to a potential 31% penalty by default for liquidity. In fact, annuities have many additional benefits: For more information about fixed index annuities.
Fixed index annuities have many features that are unique in both the fixed-rate safe-money world and the securities investment world. Fixed index annuities are a modern, hybrid class of annuities that utilize a safe approach to asset growth. They combine to principal and accumulation with the inflation-hedging ability of higher interest crediting. Their upside potential is limited to less than the full upside of the stock market, however, the positive of this is there are no loss years, think of avoiding all losses, and only retaining gains. This potential makes fixed index annuities quite enticing, so, you might want to consider utilizing them for a portion of your own retirement portfolio.
Fixed Annuity Benefits
Safety: Backed by highly rated state regulated insurers
Tax Deferral: Tax-deferred growth
Higher Return: Better interest rates typically than CDs
Life Insurance: Death payout **guarantee options
Liquidity: Flexible withdrawal privileges
Unlimited Contributions, unlike IRAs and 401(k)s
Inheritance: Pass money directly to heirs by passing probate
Lifetime Option: Income you can't outlive (Annuitization or a Living Benefit Rider)
Fixed Annuity Characteristics
Lump-sum or periodic contributions
Invested in mostly high quality A-AAA bonds
No risk to client. Insurance company assumes all risk
Guaranteed interest
Modest growth
3% to 6% interest crediting possible
1 to 15-year term
Predictable, simple
Guaranteed retirement income
No annual fees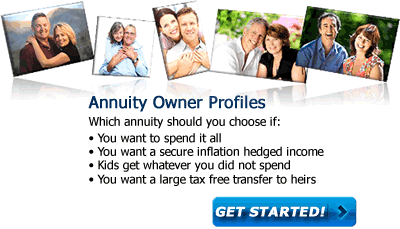 Investors that need their money prior to retirement may prefer a CD, money market or a securities-oriented investment to avoid the potential of a 10% IRS tax penalty imposed for taking money out of an annuity prior to the age of 59.5. For individuals at or near retirement, fixed annuities may be better choice. If you're looking to have a larger retirement nest egg, fixed annuities may help you meet that goal better than securities, CDs or a money market account.
Question: How do you avoid being scammed the way Bernie Madoff MADE-OFF with his client's money?
Answer: Never make a check (for insurance, assets, or investments) out directly in the name of the broker, insurance salesman or planner! Always make the check out to a third-party such as the institution that will receive the funds, never to an individual or their company.