What Do Hybrid Annuities and Fixed Index Annuities Have in Common?
Annuity Reviews, Scam Alerts & Complaints!
Equity Index Annuities were introduced in 1995; they are defined as, a Fixed Index Annuity (FIA). Hybrid Annuity is a closely related marketing term, it is, in fact, no specific annuity or brand of annuity at all! However, it is typically used to promote FIAs as safer annuities for retirement. Fixed index annuities have been maligned as a gimmick and even targeted by false scam alerts when… [continued below video]
Video: Ten vital questions you should ask before committing to any Hybrid type of annuity.
[continued] …in fact, they are nothing more than a safe fixed annuity with the ability to earn some extra interest by using a market index as a benchmark. These annuities have considerably fewer complaints than variable annuities#. In fact, many now consider hybrid annuities as an optimal retirement solution, thus making it one of the most popular annuity's purchased for retirement in recent years. Most of the complaints about hybrid annuities focus on their complexity; however, any financial product such that can solve multi-faceted retirement concerns is likely to have some degree of sophistication. Many of the advisors who criticize hybrid annuities have a practice focused on securities, and by offering critical reviews of annuities, they can get consumers to listen to their biased sales pitch… [continued below video]
**Guarantees, including optional benefits, are backed by the claims-paying ability of the issuer and may contain limitations, including surrender charges, which may affect policy values. During this segment, Dick and Eric are referring to Fixed Annuities unless otherwise specified.
So what are Hybrid Annuities or Fixed Index Annuity Pros and Cons?
Hybrid annuities also referred to as hybrid income annuities are essentially a type of insurance contract allowing the account owner to allocate his or her assets into a fixed annuity with a market benchmark component, having an income rider or riders that give substantial present or future **guarantees to secure a variety of retirement objectives.
These annuities refer to a combination of several unique aspects of various types of annuities that have been combined. Technically, a hybrid annuity is a fixed indexed annuity with an innovative new generation income rider attached to it.
Some hybrid annuities can help to resolve the concerns with regard to other needs in addition to asset growth and retirement income––such as long-term care funding or wealth transfer to heirs––while still providing one with a secure income. These annuities are considered by many to be the answer to satisfying a combination of retirement objectives combined into one solution, thus having the potential to solve several issues in retirement.
Obtaining a hybrid annuity essentially works the same way that you choose any annuity, in that making an allocation begins by choosing the hybrid annuity after comparing rates, features and ratings that meet key retirement objectives and then funding the hybrid annuity contract with a licensed agent as the final step.
With some hybrids, if funds are required for needs such as long-term care, with certain hybrid annuities, owners can have access to withdrawals for that purpose by way of an accelerated cash account payout or a **guaranteed increased income payout, in some cases for as long as it is needed. However, if they do not need the funds for that purpose, they will receive their lifetime **guaranteed retirement income just as it was structured or use the annuity for moderate growth as a secure asset foundation to balance their portfolio. There are half truths rampant on the internet about hybrid annuities check out some facts and fiction that is often perpetrated below, here are some pros and cons.
Fixed Index Annuities Pros and Cons / Hybrid Annuities Fact or Fiction… Know the Truth
As hybrid annuities are not an actual specific annuity (hybrid describes the combination of benefits offered by various types of different annuities combined into one), there are many misconceptions about how these annuities work as well as about how the benefits are received. Therefore, it is important to fully understand what fact is and what fiction is when it comes to hybrid annuities or hybrid income annuities.
Fact or Fiction? — If retirees use their annuity account value, they will not be eligible to receive any long-term care benefit dollars. — Fiction!
The truth is that on certain hybrid types––even if retirees use all of the account value in their hybrid annuity for **guaranteed retirement income needs––if they opted for the additional long-term care or income rider, then they will still be able to receive a certain dollar amount for a long-term care need as well. This essentially can be an answer that gives them the best of both worlds and a long-term care payout that's **guaranteed.
Fact or Fiction? — If one dies before he or she has used his or her hybrid annuity funds, there will be nothing left for his or her heirs. — Fiction!
Unlike some other types of immediate annuities, with a hybrid annuity, should one pass away before using up his or her annuities cash value, his or her heirs typically will receive all of the remaining dollars with no penalties or surrender charges.
This can be extremely comforting for those who want their children or heirs to receive a substantial inheritance, yet also need the benefit of **guaranteed retirement income and funds for potential long-term care expenses.
Fact or Fiction? — Because of the market indexing component, hybrid annuities are risky. — Fiction!
The facts are that hybrid index annuities offer interest crediting that is linked to the upside growth of popular stock indexes, without the downside risks of loss in those markets. Also, index annuities are insured and **guaranteed assets, and can be used as part of a predictable and comprehensive financial plan.
They are also excellent retirement and estate planning financial tools because they are built with contractual **guarantees. In fact, these types of annuities are quite suitable for the funds that should not be put at risk of market loss––such as allocations directed to a safe retirement account––since the principal is **guaranteed against stock market losses.
Fact or Fiction? — Hybrid fixed index annuities have high fees like variable annuities#. — Fiction!
No fee is one of the great advantages of hybrid annuities other than the income rider fee of typically less than 1 percent (which is optional) hybrid annuities have no fees or in rare cases have a very low fee known as a spread. A spread simply means that if there is no gain, there is no fee.
Fact or Fiction? — Hybrid annuities protect principal and lock in earnings. — Fact!
Never going backward with principal or earnings is a benefit that makes hybrid annuities so popular. This is because the chassis for a hybrid is a fixed annuity with a market indexing option also known as a fixed index annuity.
Fact or Fiction? — Hybrid annuities give the full upside of a popular market index with no downside risk — Fiction!
Unfortunately, overzealous insurance salespeople have misrepresented hybrid annuities as getting the full upside of the market. It is true however that there is no downside risk. Hybrid annuities have caps, averaging spreads and participation rates that limit upside gain in return for no downside risk. Ironically this does allow hybrid and other fixed annuities with indexing options to do better than the market indices they are indexed too when market conditions are volatile, flat or down over a period of several years.
Hybrid Annuity Features
Some common retirement concerns that are frequently articulated are as follows:
The need for reliable income now or in the future
Maintain financial independence
To know that cash will never run out
Guarantee income for a surviving spouse
Guarantee income and still leave money to children
Avoid long-term care asset spend-down
Have an inflation hedge without market risk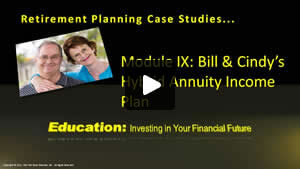 Before Committing ANY Retirement Savings to Hybrid Annuities...
"Make Decisions based on income, ratings, and key facts - Compare Hybrids!"
Our helpful visitor survey finds:
Most Hybrid annuity owners with higher rated Hybrid annuities are pleased.
A portion of Hybrid annuity owners did not adequately understand their purchase.
Those who chose the lesser rated insurers were less confident with their decision.
Some purchasers believe their agent left-out key facts and did not inform them fully.
Few owners, after purchasing, felt Hybrid annuities were not in their best interest.
Those who structured Hybrid annuities for maximum income with reduced or no annual fees were more likely to recommend this type of annuity to others.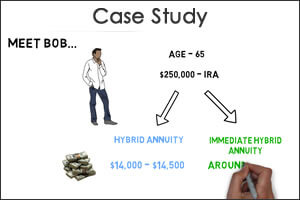 Hybrid Income Annuities & Hybrid Income Annuity Riders: Read More…
Are Hybrid Annuities too Complicated? Read More…
Hybrid Annuities or a Hybrid Income Annuity; Learn the Pros and Cons: Read More…