Let The Annuity Guys Help You Make Better Annuity Decisions,

Eric (left) is a Series 65 Fiduciary Financial Planner, Dick (right) is retired and no longer a registered Series 65 Fiduciary.
"I wanted to thank you for your annuity guys advisor recommendation. He is a perfect match for us… If there is ever anything I can do for you please let me know. Thanks again and take care."
John in PA
"Dick, Thank you again for your recommended advisor. I am indebted to you for all your support … "
Jack in CA
Learn More About
OutCome Based™


Retirement Planning!
No Cost Initial Fiduciary Retirement Review
Learn what's best for your retirement with an *Annuity Guys initial 45 minute retirement review, you will work with an experienced *Fiduciary Financial Planner, who is properly licensed to assist you with retirement planning, securities, and access to a vast number of high rated annuities – helping you balance your retirement portfolio and choose the best annuities if needed, using our trademarked: OutCome Based™ retirement planning approach.
Based on surveys answered by our site visitors, we eliminated scores of local advisors and now only recommend a select few who are experienced Fiduciary Financial Planners serving as *Annuity Guys' Vetted Advisors. "Our reputation & future business are driven only by our website visitors becoming satisfied clients"!
BONUS BOOK & DVDs
FREE!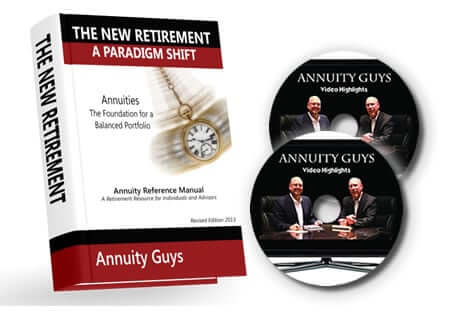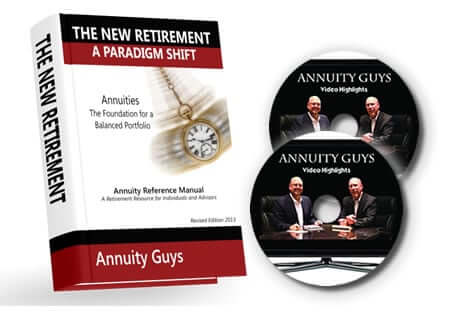 After confirming your request
for a review and your correct shipping address, we will immediately send your FREE personally signed Library Edition of our popular Annuity Reference Book
"The New Retirement" plus Two Fact-Filled DVDs! Shipped Priority Mail – FREE
Have a chat with Dick or Eric. "We will help you in determining which annuities, if any, might be best for you."
"I wanted to thank you for your annuity guys advisor recommendation. He is a perfect match for us... If there is ever anything I can do for you please let me know. Thanks again and take care."
John in PA
"Been so busy I haven't had the time to write and say thanks for the referral. She is awesome ... Thank you for your guidance."
Alex in TX
"Dick, Thank you again for your recommended advisor. I am indebted to you for all your support ... "
Jack in CA