Let The Annuity Guys Help You Make Better Annuity Decisions,

Eric Judy (left) Series 65 Fiduciary Financial Planner, Richard Van Dyke (right) semi-retired, formerly a registered Series 65 Fiduciary.
"The Annuity Guys will only call if you request help". Hence, when you are ready for specialized help we will be available.
"Working with an Experienced Fiduciary Financial Planner
can help you Avoid a Trial & Error or Risk Based Retirement"
"There is no room for trial and error when it comes to choosing MarketFree® Annuities or a Successful Retirement Planner."
Learn More About
OutCome Based™


Retirement Planning!
Your No Cost Retirement Review Helps You…
Learn what's best for your retirement with an *Annuity Guys initial 45 minute retirement review, you will work with an experienced *Fiduciary Financial Planner. A fiduciary advisor who is properly licensed to assist you with retirement planning, securities, and access to a vast number of higher rated annuities – helping you balance your retirement portfolio and choose the best annuities for you (if needed), using our trademarked:
OutCome Based™ Retirement Planning Approach.
Based on surveys answered by our site visitors, we eliminated scores of local advisors and now only recommend a select few who are experienced Fiduciary Financial Planners serving as *Annuity Guys' Vetted Advisors. "Our reputation & future business are driven only by our website visitors becoming satisfied clients"!
BONUS BOOK & FULL VIDEO ACCESS
FREE!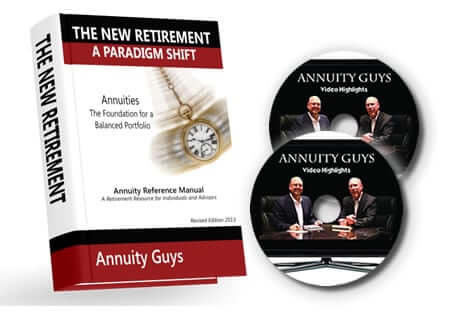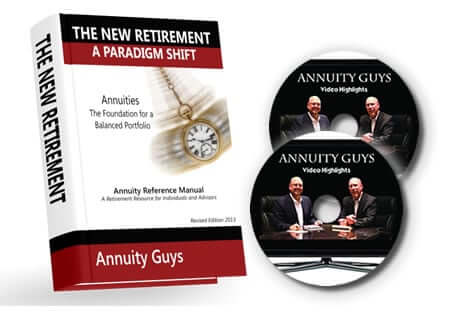 After confirming your request for a review and your correct shipping address, we will immediately send your FREE personally signed Library Edition of our popular Annuity Reference Book
"The New Retirement" plus Fact-Filled Video Access! Shipped Priority Mail – FREE
---
Here's how a few "NON-Annuity Guys Advisors" tackle the issue of Fiduciary Advisors Vs. Suitability Advisors…
Using OutCome Based Planning™ for Your Retirement
"The Annuity Guys will never call you unless you request our assistance". When you are ready for specialized help we will be available to assist you..
We practice and recommend a "Holistic – OutCome Based Planning™ process when considering annuities." This approach has the effect of balancing your overall portfolio with annuities so you can meet your retirement objectives by "first identifying the least amount of your investments or savings that should be considered for annuities." OutCome Based Planning™ analyzes and models multiple outcomes so you can clearly identify your best income and growth opportunities.
---
This type of approach does take considerably more time, effort and analysis which will show you mathematically the successful possibilities by comparing various outcomes rather than trying to sell or convince you of that "so-called one best solution." Clients frequently tell us that this process removes some of the confusion and emotion to help them objectively identify a better retirement plan; rather than just ending up with the most convincing salesperson or advisor.
When requesting help you can be assured of working with an experienced Annuity Guys' Retirement Planner who is independently insurance licensed and securities licensed as a fiduciary financial planner having access to the vast majority of annuity companies in helping you choose the best annuities using a holistic-outcome based planning approach. We consider the high quality advisor recommendations we make to our website visitors as a direct reflection back on our Annuity Guys' commitment to serve all client's with a high standard of excellence in financial planning for retirement.
Based on survey feedback on advisors from our website visitors, we eliminated about two-hundred local advisors and now only recommend a few that we consider experienced vetted Annuity Guys' Fiduciary Advisors. Many local advisors continue requesting us to recommend them as an Annuity Guy's vetted advisor. However, our reputation and future business is driven only by satisfied website visitors. So, unfortunately we've had to tell the vast majority of local advisors no, since we changed our business model four years ago. At that time we stopped trying to satisfy everyone with local advisors, we now primarily work with individuals who are comfortable using today's internet technology to their fullest advantage by working with a select group of vetted, experienced and knowledgeable Annuity Guys' Fiduciary Planners.
**Guarantees, including optional benefits, are backed by the claims-paying ability of the issuer, and may contain limitations, including surrender charges, which may affect policy values. Annuities are not FDIC insured and it is possible to lose money. Annuities are insurance products that require a premium to be paid for purchase. Annuities do not accept or receive deposits and are not to be confused with bank issued financial instruments.
*Retirement Planning and annuity purchase assistance may be provided by Eric Judy or by referral to a recommended, experienced, Fiduciary Investment Advisor in helping Annuity Guys website visitors. Dick Van Dyke retired from his Investment Advisory Practice in 2012 to focus on this Annuity Guys Website. He still maintains his insurance license and assists his current clients. Annuity Guys' recommended Fiduciary Financial Planners are required to be properly licensed in assisting clients with their annuity and retirement planning needs. (Due diligence as a client is still always necessary when working with any advisor to check their current standing.)