Should I or shouldn't I – that is the question.
Many of our site visitors struggle with the decision to choose an annuity for a portion of their retirement. No one wants to make a poor decision regarding their retirement security yet the volume of commentary on how to structure retirement is overwhelming.
How do you know if you are making the right decisions?
If you are considering an annuity for a portion of your retirement income or safety of principal, we would encourage you to focus on the **guarantees. If you can be happy with the **guarantees, then anything above the or **guaranteed growth is icing on the cake.
[embedit snippet="video-specialist-button"]
**Guarantees, including optional benefits, are backed by the claims-paying ability of the issuer, and may contain limitations, including surrender charges, which may affect policy values. During this segment, Dick and Eric are referring to Fixed Annuities unless otherwise specified.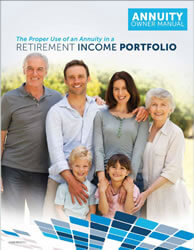 This week we are sharing with you one of our new annuity tools that we are making available in our premium section – The Annuity Owners Manual. This concise brochure summarizes the types of annuities and the type of person who might consider these different annuities. Also, it poses a few key questions that you want to get answered prior to sitting down with a local advisor. Click here or on the booklet for your copy.
Dick and Eric discuss highlights of the Annuity Owners Manual and why you'll want a copy for yourself.