The New Retirement
A Paradigm Shift
Authored by Annuity Guys®
"The New Retirement: A Paradigm Shift" was written for financial advisors, their clients and individuals who seek a common sense approach to the use of annuities in a balanced portfolio for retirement planning.
Learn: how annuities work, which annuities fit whom, what is fact or fiction, how to choose an advisor that is on your side, and why today's retiree faces unprecedented challenges.
Social Security is perhaps the ultimate annuity and every retiree needs to consider how best to optimize this cash flow asset as part of their overall plan for retirement. (see chapter fourteen)
The New Retirement: A Paradigm Shift began out of a desire to pull years of experience and research together for the present retirement crisis. These resources have been made available and shared on an individual basis by the Annuity Guys® over the course of many years as a multi-disciplinary financial advisors.
Dick has written and compiled hundreds of pages of information for newsletters, websites, retirement planning seminars, and client letters.
Use this book as a reference guide or field book, study what you need more knowledge on, and use it as needed for learning more about retirement planning and the different types of annuities and allocation strategies that exist.
This book was written more as an annuity reference book rather than to be read cover to cover, although many choose to read it in its entirety.
In addition, the Annuity Guys® have enjoyed the shared experiences of discussing firsthand financial strategies and annuity experiences with hundreds of individuals–some experiences good, some bad, and a few somewhat ugly!
Dick and Eric have woven professional experiences, involving some real-life examples, from their individual financial practice experience. It is their hope that this helps bring the reality of making good financial decisions to life for each reader, making for enjoyable yet informative reading.
Names and details have been changed to protect client and individual identities.
So read, learn, enjoy, and apply when appropriate.
Get Your Own E-Book Version of our Popular Annuity Reference Book – FREE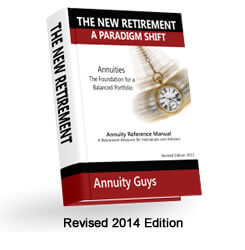 Learn About All Types of Annuities

Learn How Annuities Can Help You Avoid Market Losses

Simply Enter Your Email & Instantly Download FREE

You Save $19.95
This book is offered FREE to help answer many of your most important…
Annuity and Retirement Questions.
[HTML1]
The New Retirement – A Paradigm Shift
About the Authors
Dick and Eric are retirement educators and have nationally viewed videos on retirement issues with about one million views on their YouTube video channel. The Annuity Guys® enjoy entertaining viewers with their off-beat sense of humor, lighthearted sarcasm, and no shortage of expertise on annuities as they discuss today's retirement challenges.
Dick is a national annuity blogger on his website at https://annuityguys.org he provides extensive annuity research information in his educational blog posts including dozens of videos on retirement and annuity subjects. Eric is a guest commentator on the Annuity Guys® educational videos at https://annuityguys.org.
Annuity Guys® encourage financial objectives for the long term with younger individuals and for those middle aged or older individuals that are in or near retirement their advice is to avoid excessive risk exposure by using "Gain and Retain" strategies.