The Annuity Owners Manual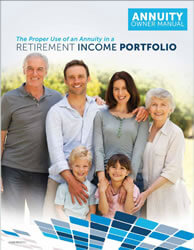 This concise manual summarizes they types of annuities and what type of person might consider an annuity. In this useful guide you will learn.
It's Personal: The Three Questions to Ask Yourself
Performance and Safety
Annuity Models
Today's retiree is learning that there is an important place for annuities in today's retirement planning. However, it's important to choose the correct annuity for your financial situation and ensure that it works in concert with the rest of your portfolio. When utilized correctly, the annuity can be a very effective retirement income vehicle.
That's why it's time for an Annuity User Manual. The objective of this resource is to help you understand how to determine the type of annuity best suited for your situation and lifestyle and how it should work within your retirement portfolio.
Join the many thousands of other individuals like yourself who trust and rely on our educational annuity resources.
We respect your privacy. Access will be sent instantly by email. Our Promise, NO Spam. Confidential.
[embedit snippet="bonus_form_bottom"]
[HTML2]