Not sure how Annuities would work for your retirement? See this case study of how Tim and Laura used Hybrid Annuities within their portfolio to create an income solution for life. It is so important to understand how these multifaceted instruments work prior to making any final annuity decisions. Get this enlightening video tool!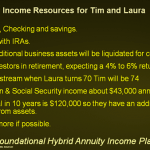 Join thousands of other individuals like yourself who rely on our educational annuity resources. We respect your privacy.
Access is instant by email. Our Promise, NO Spam. Confidential. Enter your information for this Annuity Video Tool – FREE!
[embedit snippet="bonus_form_bottom"]
[HTML2]