Saturday Morning Videos in Our Annuity Guys Video Library…
We hope you will enjoy our retirement and annuity videos in this library. Retirements are always facing new challenges in our fast changing world.
As Annuity Guys we report on retirement changes for better or worse, so you can stay updated on tax saving strategies, Social Security, annuity planning for income and growth, wealth transfer strategies and the latest scams or gimmicks to avoid. Subscribe free and enjoy a new retirement topic every Saturday morning, videos go great with coffee or tea!
Help, Book, & DVDs – FREE!
When requesting help you can be assured of working with a specialized independent insurance licensed annuity advisor who has access to many different companies and annuities in helping you choose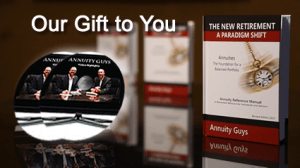 the best annuities using a holistic-outcome based planning approach. We consider the
high quality referrals we make to our website visitors
a direct reflection back on us.
Based on referral feedback from surveys answered by our site visitors
we eliminated about 200 advisors and now only recommend a few
who we consider highly qualified to serve on a national level.
"Our reputation and future business is driven only by satisfied website visitors."
Advisors do pay us a referral fee, however,
there is never a cost to individuals receiving a referral or advisor recommendation
. The individuals that benefit most from our process are comfortable using today's internet technology to their advantage.
Priority Mail – Shipping is Free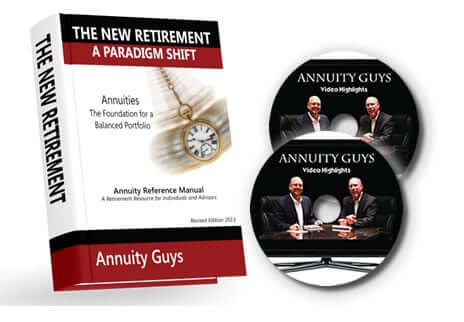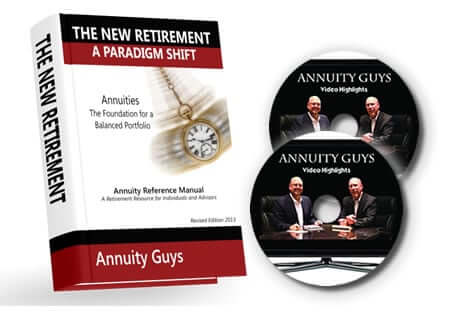 After confirming your request for help and shipping address by phone, we will immediately send your FREE personally signed Library Edition of our popular Annuity Reference Book "The New Retirement" plus Two Fact-Filled DVDs!
As Seen On…

Have a chat with Dick or Eric. "We will help you in determining which annuities, if any, might be best for you."