Okay, what's the catch? How is it possible that a hybrid fixed index annuity can eliminate market risk and earn higher interest than standard fixed annuities. Unfortunately, at times there is a catch – when the agent is overselling or overstating the merits of this type of annuity. Oftentimes, the upside is compared with uncapped stock market like returns without market risk and an income floor of 7 to 8 percent. If this were fully true, these annuities would quickly become the number one financial instrument for everyone – young or old! [continued below video…]
Video: Dick and Eric discuss how fixed index annuities pay a higher yield without market risk.
Guarantees, including optional benefits, are backed by the claims-paying ability of the issuer, and may contain limitations, including surrender charges, which may affect policy values. During this segment, Dick and Eric are referring to Fixed Annuities unless otherwise specified. 
So, let's dissect the hype and dial it back a little. First; you never get the full upside of the market index your annuity is correlated with. There are always one or more limiting factors to the interest earned. It is also important to remember that you are never directly invested in the market index your annuity is correlated with. As for that 7 to 8 percent floor (rider roll up percentage to be more accurate), you are probably paying a 1 percent annual fee. This floor/rollup percentage is never real growth on money you can walk away with; rather, it is a formula that **guarantees a future income. So, what is the no-gimmick way to correctly state the benefits of a Hybrid Fixed Index Annuity (FIA)? Lets try this… The FIA earns interest based on some of the upside potential of the market index it is correlated with and it has contractual income **guarantees that use a compounding 4 to 8 percent roll-up formula to **guarantee a certain level of future income. Now, the FIA sounds good but not too dubious and many folks will still want to see if it is the right fit for them, even when it is described more accurately.
How do insurance companies actually payout more with FIAs? It is really pretty simple. The money the insurance company would have paid to you (say the 3 percent based on a standard fixed annuity contract) is diverted to purchasing call options on the index you are correlated with. If the options do well, they are exercised (a win-win for both the insurance company and you); and if they do poorly, the options simply expire  -no harm, no foul, and your principal is always intact with some minimum **guarantees secured typically by longer term treasuries and high investment grade bonds. So, why has this worked so well for both FIA owners and insurance companies? It has a lot to do with the insurance companies being ultra conservative, managing risk well, and being able to afford some of the top financial annalists in managing this process.
To assist with understanding how interest crediting works we've created this info-graphic.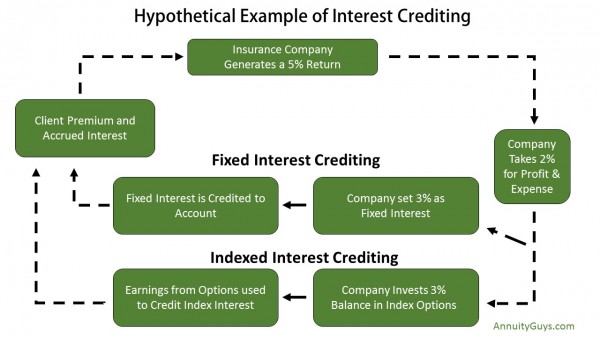 Using OutCome Based Planning™ for Your Retirement
"The Annuity Guys will never call you unless you request our assistance". When you are ready for specialized help we will be available to assist you.. We practice and recommend a "Holistic - OutCome Based Planning™ process when considering annuities." This approach has the effect of balancing your overall portfolio with annuities so you can meet your retirement objectives by "first identifying the least amount of your investments or savings that should be considered for annuities." OutCome Based Planning™ analyzes and models multiple outcomes so you can clearly identify your best income and growth opportunities.
---
If you have done a little internet research, you are probably aware that you can choose from hundreds of annuity advisors/salespeople who will try to convincingly promise you that they have the best annuities and advanced strategies for all of your money. Indeed, there are many advisors who claim to have "that one best solution, best annuity or best strategy; this, however, is not the way we approach or recommend that you do retirement and income planning" since we believe that there are many good solutions for you to consider. Our recommended process is directed towards looking at several plausible financial strategies with different successful outcomes based on your financial situation. This process helps you to compare and select one of the best solutions "that you are most comfortable with.
This type of approach does take considerably more time, effort and analysis which will show you mathematically the successful possibilities by comparing various outcomes rather than trying to sell or convince you of that "so-called one best solution." Clients frequently tell us that this process removes some of the confusion and emotion to help them objectively identify a better retirement plan; rather than just ending up with the most convincing salesperson or advisor.
When requesting help you can be assured of working with an experienced Annuity Guys' Retirement Planner who is an independent, licensed insurance agent and (also a securities licensed fiduciary financial planner) who has access to many different companies and annuities in helping you choose the best annuities using a holistic-outcome based planning approach. We consider the high quality advisor recommendations we make to our website visitors as a direct reflection back on us.
Get Two Helpful DVDs & Our Library Edition - Annuity Reference Book